This decorative stone candle holder and tray Coral gift set is beautifully hand carved from natural Fossil Coral Stone. Each unique Coral Stone tea light candle holder and tray contains marine fossils, coral, shells and ocean plants that existed millions of years ago! Blending with any home decor, these fascinating Coral Stone gift sets consist of natural sand, tan and earth tones, with each piece expertly handcrafted from a single piece of natural stone and richly polished for a high gloss finish. This versatile 3 piece candle holder gift set includes a pair of Coral candle holders with two ivory color tealight candles, and a matching rectangular stone tray. Exclusively designed, these unique Coral gift sets make a decorative stone candle holder set for any room in the home, impressive Coral 35th Anniversary traditional gift or natural stone gift for any special occasion.


Handcrafted Coral Stone Candle Holder with
Decorative Stone Candle Tray Gift Set
Click any image to enlarge.
Sale Price
#C069SET / Coral Stone Candle Holders with Candle Tray Gift Set
• 2 Pcs. - Coral Stone Tea Light Candle Holders, 2 x 3 Inch Tall
• 2 Pcs. - Standard Tea Light Candles, 1 1/2 Inch Dia.
• 1 Pc. - Coral Stone Candle Tray - 4 Inch Wide x 7 Inch Long
$89.99

Free Shipping
Coral is also the Traditional 35th Wedding Anniversary Gift
View All Coral 35th Wedding Anniversary Gifts

Availability: This item is out of stock.
For an alternative, consider our other Coral Stone 35th Anniversary Gifts.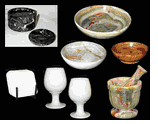 • Onyx, Stone, Fossil & Marble Bowls
• Onyx, Stone,Fossil & Marble Trays
• Onyx, Stone Goblets & Wine Glasses
• Onyx, Stone & Marble Drink Coaster Sets
• Onyx, Stone & Marble Mortar and Pestle Sets
• Onyx, Stone, Marble Bowls, Trays & Coasters Main Page
Storewide Sale, Save up to 30%
Plus Free Ground Shipping for Orders over $25.00!
Order By 9:00AM Pacific, (12:00PM ET) Monday - Friday for Same Day Shipping
Most Orders Arrive in Just 2-3 Business Days
Toll Free: (800) 260-1064
~~~~~
Sale prices valid through Sunday, October 1, 2023
Unique Marble Gifts, Quality Onyx Sculptures & Natural Stone Decor
Shop Direct and Save on Unique Stone Gifts, Onyx and Marble Home Decor Accents
Buy Online or Purchase by Phone, Fax or Mail
Unique Gifts for Her - Christmas Gifts - Executive Gifts - Unique Gifts for Him
College Graduation Gifts - Birthday Gifts - Wedding Gifts - Thank You Gifts
Traditional 7th Onyx Anniversary Gifts - Traditional Coral 35th Anniversary Gifts
Free Shipping for Orders over $25.00!
Only $8.95 for Ground Shipping on Orders under $25.00
Onyx, Stone,
Marble Bowls
Marble
Bookends
Marble, Onyx,
Stone Boxes
Marble
Coaster Sets
Marble Trays,
Wine Glasses
Marble Vases,
Stone Planters
Stone Checkers
Pieces
Marble, Stone
Obelisks
Stone Animal
Figurines
Animal
Sculptures
Marble Pet Urns,
Stone Pet Urns
Stone & Marble
Cremation Urns
Fossil Stone
Gifts & Decor
Coral Gifts,
Stone Decor
Beige Marble
Gifts & Decor
Black Marble
Gifts & Decor
White Marble
Gifts & Decor
Green Onyx
Gifts & Decor
Privacy
Policy
Shipping
Methods
Satisfaction
Guarantee
Ordering
Information
Gift
Options
UPS
Ground Map
Wholesale Information (For Retailers)
Marble Products - By Type
Show Cart
Print Order Form - Prefer to Mail or Fax?
About Khan Imports
Contact Us
What Customers Are Saying...
Receive Special Offers
Track Order
KHAN IMPORTS
EST. 1989



Toll Free: 800-260-1064 (US & Canada)
Tel.: 805-967-8050 • Fax: 805-967-7128
Monday - Friday, 8:00AM - 4:00PM (Pacific Time)
E-mail: khanimports@yahoo.com
www.KhanImports.com
~~~~~
Mailing Address:
5730 Encina Rd., Suite 1
Goleta, CA 93117-6250
USA
Copyright © 1999-2023, Khan Imports. All rights reserved.
No portion of this website, including product images, descriptive text or html code, may be
copied, reproduced or published without expressed written permission of Khan Imports.
Copyright Policy & Legal Notices